Marina Bay Sands Resort
SCP 327 provides a permanent solution against chloride ion and environmental attack.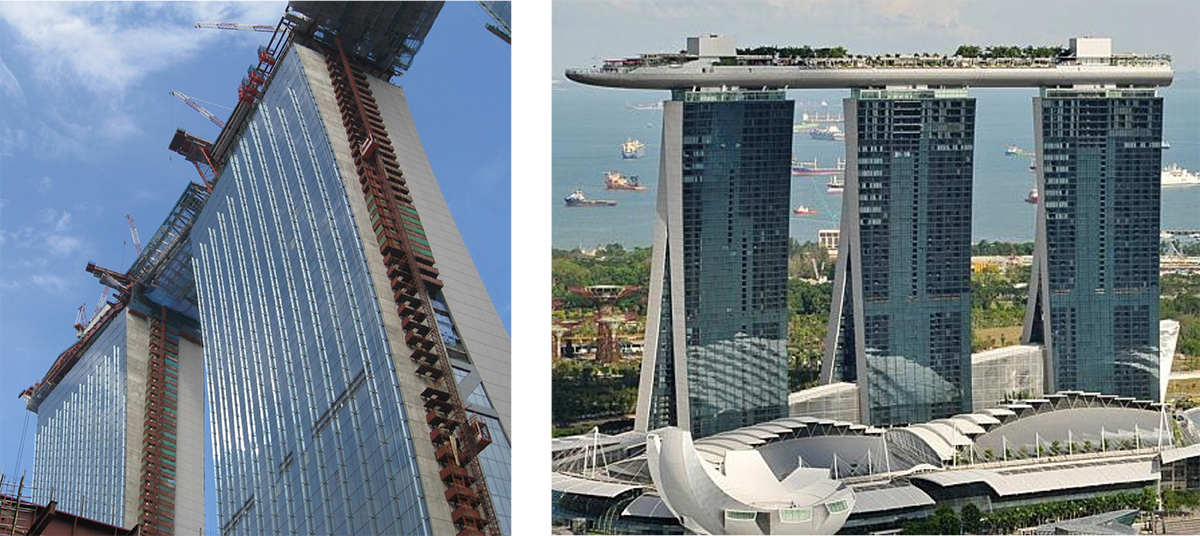 Singapore's Marina Bay Resort stands tall as
one of the most impressive properties in the
world.
The three hotel towers are covered by the
breath-taking SkyPark that extends out over
the structure and supports three massive
infinity edge swimming pools, two restaurants,
and a garden with unparalleled views of
Singapore. Sands Casino Corporation decided
to use SCP 327 to protect its investment in the
new SkyPark.
SCP 327 was selected as the waterproofer for
this project to protect it from ongoing chloride
ion penetration. Since it was applied at
timeof-placement, SCP 327 also acted as the
curing medium prior to surfacing installation.
As a result, foot traffic was allowed on the
concrete surface 1 hour after treatment and full
construction traffic after the concrete achieved
its design strength.
SCP 327 penetrates into the concrete capillary
and pore structure; therefore, damage to the
waterproofing system due to construction traffic is
unlikely unless the concrete itself is damaged.
SCP 327 densified, strengthened and hardened
the newly placed SkyPark concrete and provided
an ongoing solution for the reinforcing steel by
protecting against chloride ion penetration into the
concrete, and reducing reinforcing steel corrosion
potential.
This iconic and beautiful resort now has SCP
protecting its underlying concrete for the lifetime
of the structure.
SCP 327 Benefits:
• Waterproofs new concrete
• Deters development of corrosion conditions
• Eliminates the need to remove curing
membrane prior to coatings or coverings
• Provides a permanent barrier against
chloride ion penetration & environmental
attack