CHENEY STADIUM
Home of the Tacoma Rainers – SCP is a Home Run for Parties at Cheney Stadium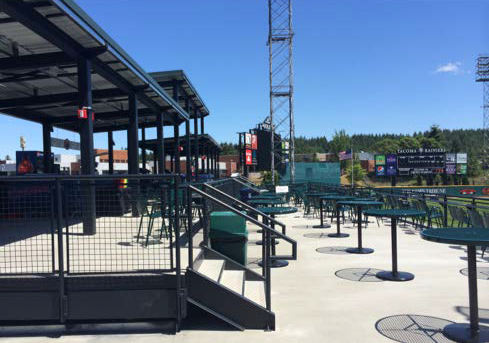 Peanuts, popcorn, crackerjacks, and more are a big part of baseball culture. But much of the food and drinks land on the concrete in a baseball stadium, creating ongoing maintenance and safety issues. And, on ballpark party decks, there's a greater variety of spillage, including BBQ sauce and grease, creating major cleanup challenges. That's why Mortenson Construction used SCP 327 to protect the concrete on the new Bullpen Party Deck at Cheney Stadium in Tacoma, WA.
Mortenson also selected SCP 327 because of its curing qualities [reduced cracking] and for quicker access. Once SCP was applied to the raised deck, the construction crew was able to access the slab within one-hour! This immediate access allowed the contractors to finish the job ahead of schedule, opening the 70,000 square foot deck just 20 days after time-of-placement.
SCP 327 is not a coating; it is a spray-applied treatment that produces a calcium silicate hydrate gel, the "glue" of concrete, to effectively plug the capillaries and pores, and protect the concrete from the inside out. In addition to minimizing the readily accessible concrete porosity, SCP Technology helps maintain concrete
chemistry to preserve reinforcing steel corrosion resistance.
SCP 327 allows for easy post-game cleanup and decreases the need for pressure-washing. And, unlike coatings and other penetrating sealers that require re-application every three to five years, SCP is permanent, locking out moisture and saving recurring maintenance costs.
SCP Technology is a home run for Cheney Stadium's partygoers, making a huge difference in the appearance and sustainability of the park's concrete surfaces. Because of SCP's performance and easy maintenance benefits, Cheney's owners plan to apply SCP Technology to the other party decks in the near future.